Past Chapter Meetings and Events
Meetings and Programs 2018
Annual End of the Year Luncheon: "A Year of Service and Friendship
August Social in Black Forest
Christmas Banquet at Patty Jewett Golf Course
DAR–What's It All About?
Ladies Undergarments" history program
The Magna Carta
Million Pollinator Gardens
Renovation of Historic Long Barracks at Joint Base San Antonio (TX)
Scholarship Fundraiser Auction
Women in the Civil War
Meetings and Programs 2017
A Quilt in Time by Audrey Coyle
DNA and the NSDAR by Carolyn Trump
DAR Good Citizens Recognition
Grandma's Apron by Donna Bottini
Scholarship Fundraiser Auction
Women of the American Revolution by Charlotte Hubbs
Meetings and Programs 2016
DAR Good Citizens Recognition
Historic Preservation of Evergreen Cemetery by Diane Hartshorn
History of Christmas Traditions by Linda Remley
Imbibing Ye Olde Revolutionary Drinks by Audrey Coyle
Irish Immigration and American Independence
Membership Social
The Night Sky – A Journey from Dachau to Denver and Back by Maria Sutton
Scholarship Fundraiser Auction
Service with Charity in Our DAR Garden by Peggy Norton, Colorado State Regent
The WASPS of World War II by Lt. Col Mary Warren Daley, Retired
A Tour of DAR Headquarters by Audrey Coyle
Meetings and Programs 2015
Auction – Scholarship Fundraiser
Tomb of the Unknown Soldier
A Lifetime of Scouting
DAR American Indian Committee – What Is It?
Annual Spring Luncheon
100th Year Anniversary!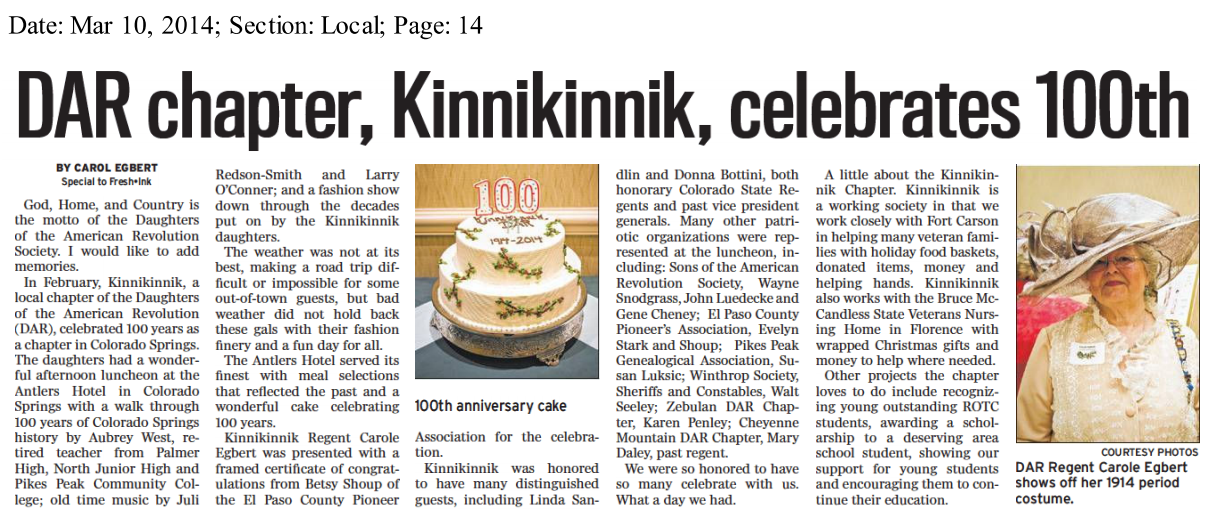 On February 1, 2014, a beautiful celebration was held at the Colorado Springs Antlers Hotel to commemorate the chapter's 100th year since it's founding. The room was filled with Daughters from across the state and many distinguished guests. Many of the ladies wore period dresses which added beauty to the festivities. There was an afternoon of friends, fun and food, treasuring the memories of the past and building new memories for the future.
Memorial Day 2017
Kinnikinnik members placed American flags at the graves of veterans in a local cemetery the weekend before Memorial Day, 2017. Our Kinnikinnik Chapter NSDAR understands the sacrifices made by members of the military, as well as their families. As the saying goes, "Home of the Free, Because of the Brave."
August – Annual Membership Tea
Each year, this event is hosted by Kinnikinnik Chapter NSDAR officers, at a member's home. It is a fun, relaxed day of visiting with many guests, good friends, and hopefully — new members! It's always enjoyable to catch up with friends after a summer break, often meet our state leaders, and hear from guest speakers. Also, a party is not a party without games which officers are happy to provide including one with questions of "How much do you know about DAR?" – it is always so much fun.
August, 2017 – Honor Flight
Kinnikinnik members support Veterans! A check was sent to Honor Flight, an organization that flies World War II Veterans and Veterans of the Korean War (Conflict) to Washington, D.C. to see the memorials dedicated to them.
September, 2013 – Meeting at Historic Black Forest Log School House
The school house, built in 1922 and placed on the DAR National Register of Historic Places in 1993, served as our meeting venue. Our guest speaker was Carrie Robertson who spoke about the preservation of the school and community center, both of which survived the Black Forest Fire of 2013.
September – Annual 9/11 Cookie Event!
We celebrated Patriot's Day (9/11) by delivering cookies and treats to all police and fire stations in El Paso County by chapter members. Several members have been impacted by the devastation of fires in the past few years so we continue to show our appreciation to the fire crews.
October 17, 2017 – Transitional Housing Initiative
The Transitional Housing Initiative kicked off October 17th. This program is designed to take eight Homeless Veteran Families off the street, remove barriers such as transportation and job search support. It also includes three meals a day (two at the Clarion and one at Marian House,) and spending 30 days in the Clarion Hotel. During this time, homeless veterans seek employment and save their wages so that after the 30 day time period, they are able to move to housing they can afford through the jobs they've taken. Kinnikinnik members generously donated money for a meal for the homeless veterans.
October 2017 – Adopt a School
Members donated potatoes and all the trimmings for a potato bar at our adopted school. The staff held parent/teacher conferences that evening and were happy to have a hot meal served at their school.
Members accompanied a class of children on a field trip from our adopted school. Visiting the historic Venetucci Farm and Pumpkin Patch was so much fun!
Literacy is an important goal for Kinnikinnik Members. One of our members presented a gift to the library at school.
Members also helped operate the school's book fair. It is heartwarming to see so much enthusiasm for reading!
November – Veterans Day Parade
Kinnikinnik Daughters continued their proud tradition of walking in the annual Veterans Day Parade in downtown Colorado Springs. Chapter ladies, some in period costumes, marched in the parade in honor of all veterans.
We love to dress up! And, you guessed it – red, white, and blue are our favorite colors! It is such an honor to be able to march in the annual Veterans Day Parade in downtown Colorado Springs. The streets are lined with people all cheering for our veterans. Kinnikinnik Chapter NSDAR has been proudly honoring our active service men and women and all our veterans as far back as any of us can remember. We enjoy marching each year with our other Colorado Springs chapters: Zebulon Pike and Cheyenne Mountain. The Veterans Day Parade is fun for the whole family. We hope to see all of you there next year!!


Kinnikinnik Honors Our Founding Regent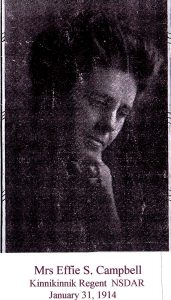 On December 23, 2013, the Kinnikinnik Chapter NSDAR placed a beautiful wreath on the grave of Kinnikinnik's founding regent, Mrs. Effie S. Campbell.
Miss Effie Shelton was born June 9, 1871, in Windsor, Missouri, daughter of Mr. and Mrs. George James Shelton. Miss Shelton was married to Captain William H. Simpson, a traffic manager of the Western Union Telegraph Company in Denver, Colorado. Mr. Shelton died at the age of 33 in 1904.
November 27, 1909, the widow Mrs. Simpson, at the age of 38, married Mr. Norman M. Campbell, a prominent Colorado Springs attorney. Mr. Norman and Effie Campbell made their home at 17 East Espanola Street, Colorado Springs.
Mr. Norman Campbell was a brother of John Campbell, a Colorado Supreme Court Justice. Mr. John Campbell's wife, Harriet Parker Campbell, was a member of NSDAR, the Denver Chapter and State Regent 1904-1908. Mrs. Effie Campbell, first regent of Kinnikinnik Chapter NSDAR, was a member of the Grace Episcopal Church on Pikes Peak Avenue and Weber Street. During her life, Mrs. Campbell was also a member of the Colonial Dames, the Tuesday Luncheon Club, the Women's Educational Society, a life member of the WES and for many years active in the Red Cross.
Mrs. Effie S. Campbell died at the age of ninety on January 24, 1962 and is buried next to her husband in the Everyreen Cemetery in Colorado Springs.